Day Camper Lacrosse
Requires Basic Membership
MonTueWedThuFriSatSun 9:00am to 1:00pm
Camper Fees

Early Bird

450.0

+ 3.0% Processing Fee

Regular

475.0

+ 3.0% Processing Fee

Late

500.0

+ 3.0% Processing Fee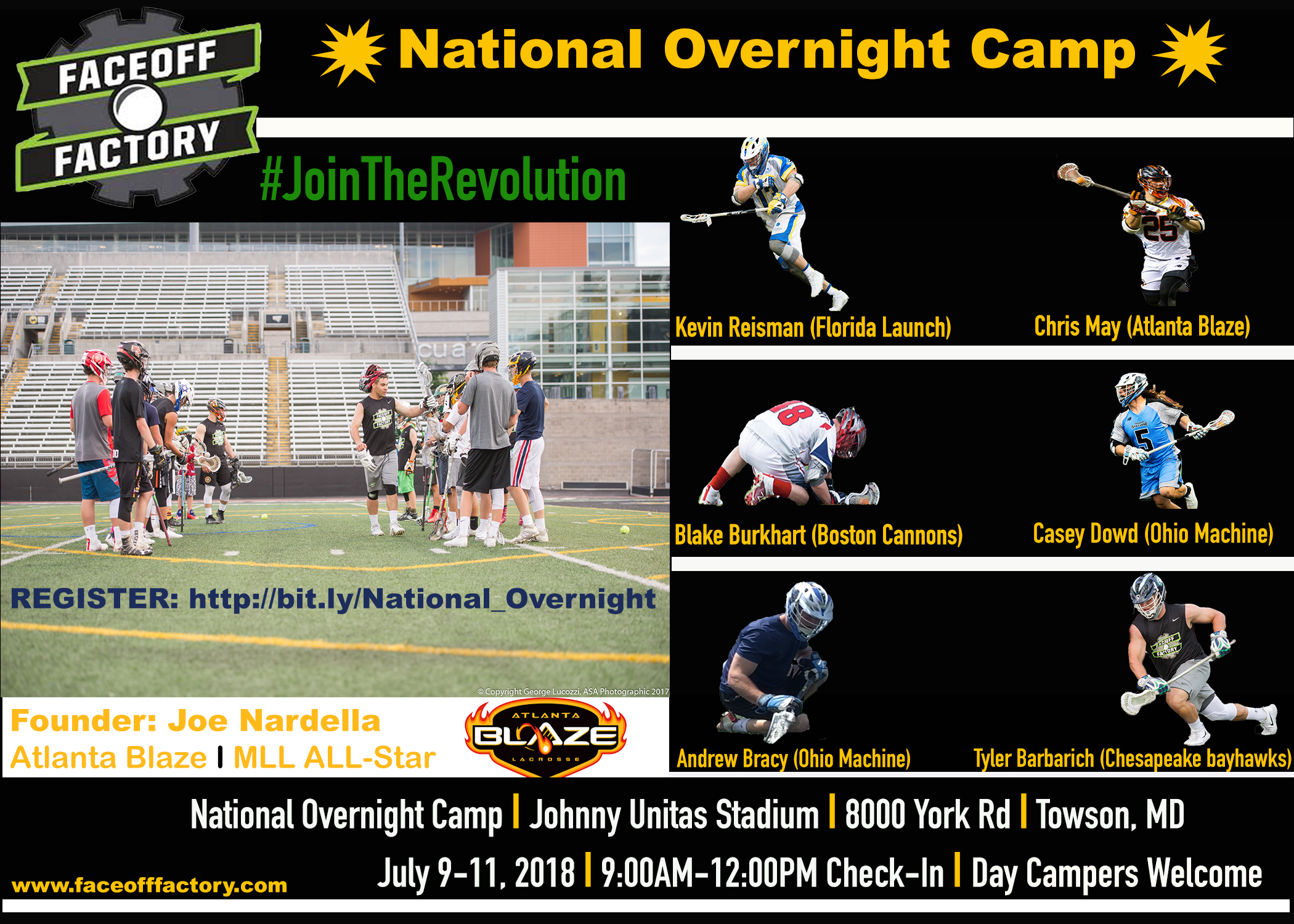 The Face-off Factory family is excited to announce the dates for our 5th annual National Overnight Event, held in Towson, MD (July 9th - July 11th).
Monday, July 9th through Wednesday, July 11th, 2018
National Overnight Camp (Day Campers Welcome)
Faceoff Factory Overnight Camp Schedule
July 9:
9:00am-12:00pm Check-in

12:00pm-1:00pm Orientation/Lunch

2:00pm-4:00pm Afternoon Session

Dinner 4:30pm-5:30pm

6:00pm-8:00pm Evening Session

8:00pm-9:00pm Film Study/Mental Exercise in Dorms

9:00pm Day Campers Pick-up
July 10:
7:30am: Wake up Call

8:00am-9:00am Breakfast

10:00am-12:00pm Morning session

12:00pm-1:00pm Lunch

2:00pm-5:00pm Afternoon Session

5:00pm-6:00pm Dinner

6:30pm-8:00pm Evening Session

8:00pm-9:00pm Film Study/Mental Exercise in Dorms

9:00pm Day Camper Pick-up
July 11:
8:00am-9:00am Breakfast

10:00am-12:00pm Morning session (Competition)

12:00pm-1:00pm Lunch

1:00pm-2:00pm Check-out
LOCATION:
Towson University
8000 York Rd.
Towson, MD, 21252
This is our only overnight event of the year, allowing us to provide our students with the most rigorous and in-depth program offered. Students will not only be schooled on all aspects of the faceoff position from a technical standpoint, we will spend a significant amount of time working on their mental game as well.
Although the face-off concludes within seconds, it is one of the most imperative aspects of game. This overnight event will allow the coaches to teach, correct, and improve the player's mind and techniques surrounding the face-off position. Students will be taught several techniques, counters, and skills associated with the faceoff position through repetition on the field. Students will also be taught how to analyze and dissect all face-off situations through our evening film study sessions. Film study has become a core element of our coaching philosophy. We will be watching film from various professional and college games to reinforce our teaching and to reinforce our philosophy that each faceoff student is unique in their own regard.
In part with high-level competition amongst elite players from across the country, the most valuable tool will be the player's accessibility to the coaches. Face-off Factory's signature competition will take place on the final day of camp. Players will be placed in brackets and seeded based on their ages and performance during competition throughout our preliminary days of camp. The tournament will be double elimination style to determine our Face-off Factory National Overnight Champions.
Players will be filmed and evaluated throughout the day. The players will work together, in small groups based upon age, skill, and request, through stations to ensure the right level of instruction and supervision. The training days will focus on building the complete face-off midfielder, including techniques, strategy, shooting, fast breaks, early offense, defense, and substitutions.
This event is limited to 75 players.

If you have any questions, please email or contact Coach Nardella (315)727-6914.
FACE-OFF FACTORY
Email: info@face-offfactory.com
Website: www.face-offfactory.com
Like us on Facebook: https://www.facebook.com/TheFaceOffFactory
Follow us on twitter: @FaceoffFactory