Register
Defense Factory Summer Training Lacrosse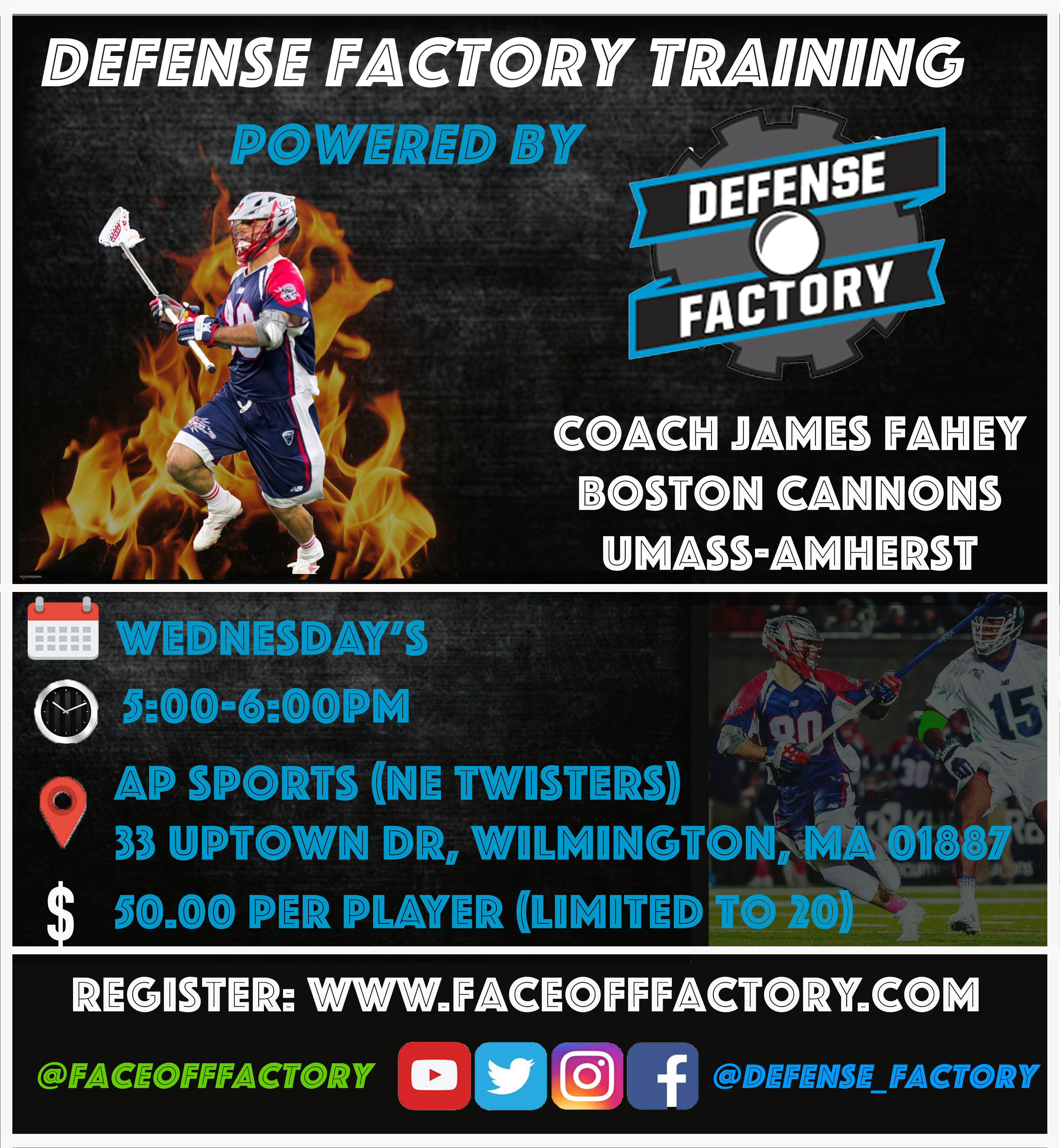 Dear Players, Parents and Coaches;
Defense Factory is proud to announce that we will be holding clinics at AP Sports every other Wednesday in Wilmington, MA. Training is open to ALL ages from beginner to advanced level. We will focus on maximizing technical efficiency, GB's, transition, stick-work, disruption checks, footwork, approach angles, and will spend time focusing on tactical situations so that you can become a leader of your teams defense. Sessions will be held from 5-6PM.
Defensive Training will be led by Coach James Fahey. Fahey was a four-year letterman with the UMass-Amherst Minutemen. While at the University of Massachusetts (Amherst), James played in the USILA North-South All-Star Game as well as the NEILA East-West Senior Game. He was ranked first in the CAA and 29th nationally in caused turnovers per game. Prior to his collegiate career, Fahey was a four-year letter winner on defense at St. Johns Preparatory school. Fahey led his team to a state title in 2010 while also making All-America Teams. During his professional career, Fahey has been a member of both the Atlanta Blaze and Boston Cannons. James is known for his ability to play a number of roles in games including defense, faceoff and also has a strong offensive ability. During this current season, Fahey resides with the Boston Cannons where he is a leader and key contributor. In addition, Fahey has also spent time as a coach and mentor for the Top Gun Fighting Clams.
Address:
AP Sports (New England Twisters)
33 Uptown Dr
Wilmington, MA 01887
The cost of each session is $50. Please register online or bring a check made out to Cash.

If you have any questions, please contact James Angelicola at 315-256-6106 or at faceofffactory@gmail.com.
Thanks and best regards,
DEFENSE FACTORY
Individual Fees

Regular

$50.00