Register
Western Massachusetts Combine Lacrosse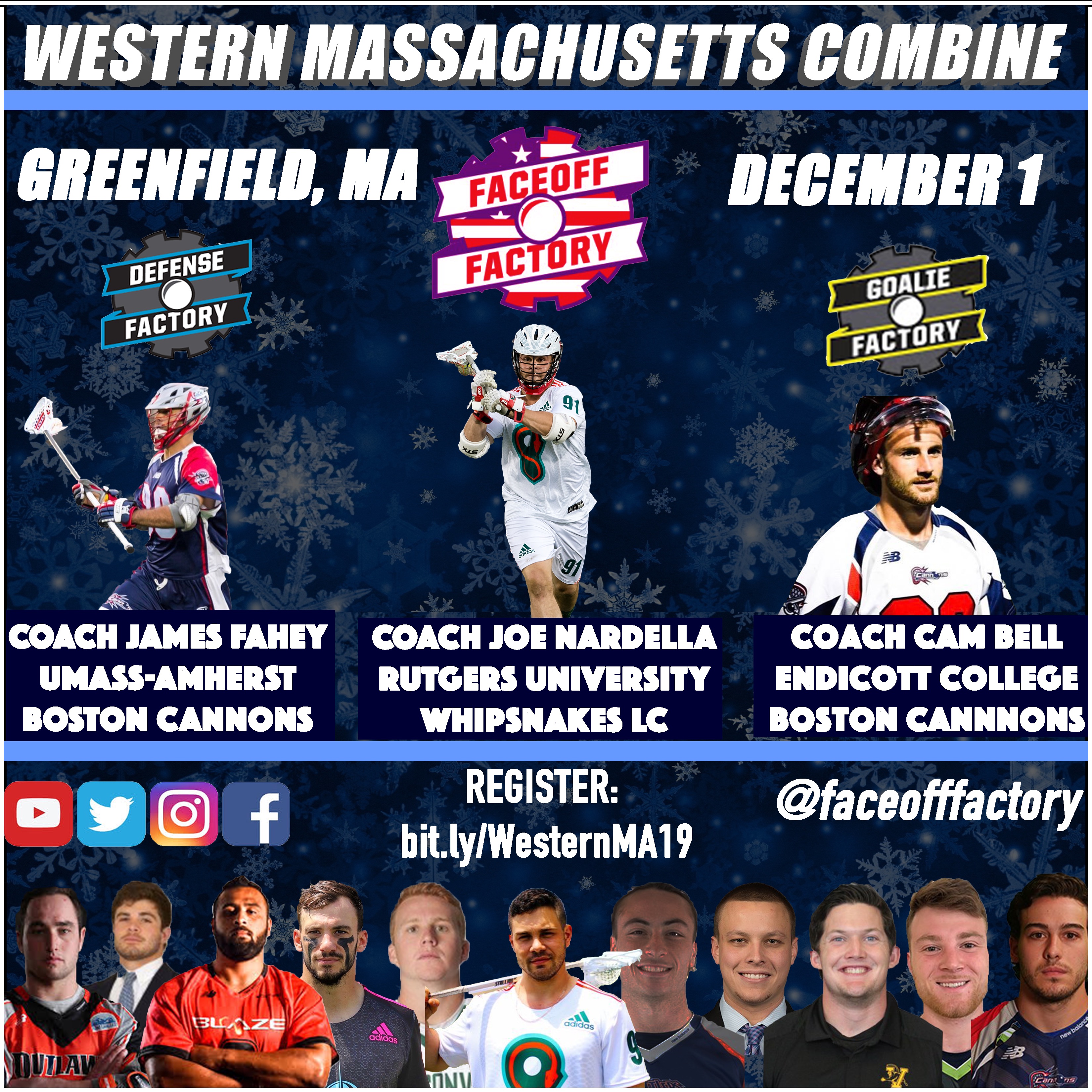 Dear Players, Parents & Coaches;

We are pleased to announce that we will be hosting another Western Massachusetts combine in Greenfield, MA. The Clinic will take place at Indoor Action Sports on December 1st, 2019 from 1:00-3:30PM.
Face-off training will be led by Coach Joe Nardella. Coach Nardella is the current Faceoff Specialist for the PLL Whipsnakes. Joe has made a name for himself in the Premier Lacrosse League ranking top 3 in FO percentage and ground balls while also leading Faceoff Specialist's in goals. Coach Nardella was a standout at Rutgers University where he was named an All-American, an Academic All-American, Big Ten Specialist of the Year, 3x All Conference, and ranked top 5 in the nation in FO win % 3 years in a row. Coach Nardella is a 2X MLL All-Star and has solidified himself as a top 3 FO specialist in the world. Lastly, Joe notched 4 years of collegiate coaching experience serving as an Assistant at Harvard University.

Goalie Training will be held by Coach Cam Bell. Bell, a Falmouth, Maine native, earned All-State First Team honors in 2012 following All-State Second Team honors in 2011 for the Yachtsmen of FHS. After graduation, Bell attended Endicott College on the North Shore where he majored in Sport Management and racked up numerous accolades. The goaltender was 2013 CCC Rookie of the Year and was named to the CCC First Team in 2013, 2014, 2015, and 2016. Cam garnered USILA Honorable Mention All-American in 2013, 2014, and 2015 as well. A two-time CCC Defensive Player of the Year. Bell was later drafted 67th overall by the Boston Cannons in the 2016 MLL draft and earned his debut in 2018.
Defensive Training will be led by Coach James Fahey. Fahey was a four-year letterman with the UMass-Amherst Minutemen. While at the University of Massachusetts (Amherst), James played in the USILA North-South All-Star Game as well as the NEILA East-West Senior Game. He was ranked first in the CAA and 29th nationally in caused turnovers per game. Prior to his collegiate career, Fahey was a four-year letter winner on defense at St. Johns Preparatory school. Fahey led his team to a state title in 2010 while also making All-America Teams. During his professional career, Fahey has been a member of both the Atlanta Blaze and Boston Cannons. James is known for his ability to play a number of roles in games including defense, faceoff and also has a strong offensive ability. During this current season, Fahey resides with the Boston Cannons where he is a leader and key contributor. In addition, Fahey has also spent time as a coach and mentor for the Top Gun Fighting Clams.
Why Faceoff Factory?

Here at Faceoff Factory, we take pride in our grassroots approach. We have had great success with the curriculum we have developed and tested over the course of 5 years. Our training has translated to proper faceoff technique and fundamentals that will ensure immediate and prolonged success at the faceoff position.
Additionally, students will be introduced to and challenged to master core fundamentals, advanced moves and techniques, counters, disruptions, anticipation tactics, proper footwork, appropriate body positioning, tie-up strategy, and situational IQ.
Coaches (Free of charge) - Our clinics are always open to coaches, free of charge. We allow coaches to take notes, record video, and ask questions during/following the event. This is a great way for coaches to get right in on the action, learn from the staff, reinforce what their players learn, and further educate themselves.
Address:
Indoor Action Sports
1385 Bernardston Rd,
Greenfield, MA 01301

Cost: $99.00 per player
Please direct any questions to James Angelicola (Director of Operations) at 315-256-6106.
Thanks and best regards,
Faceoff Factory