Buffalo Fall Faceoff Days Boys Lacrosse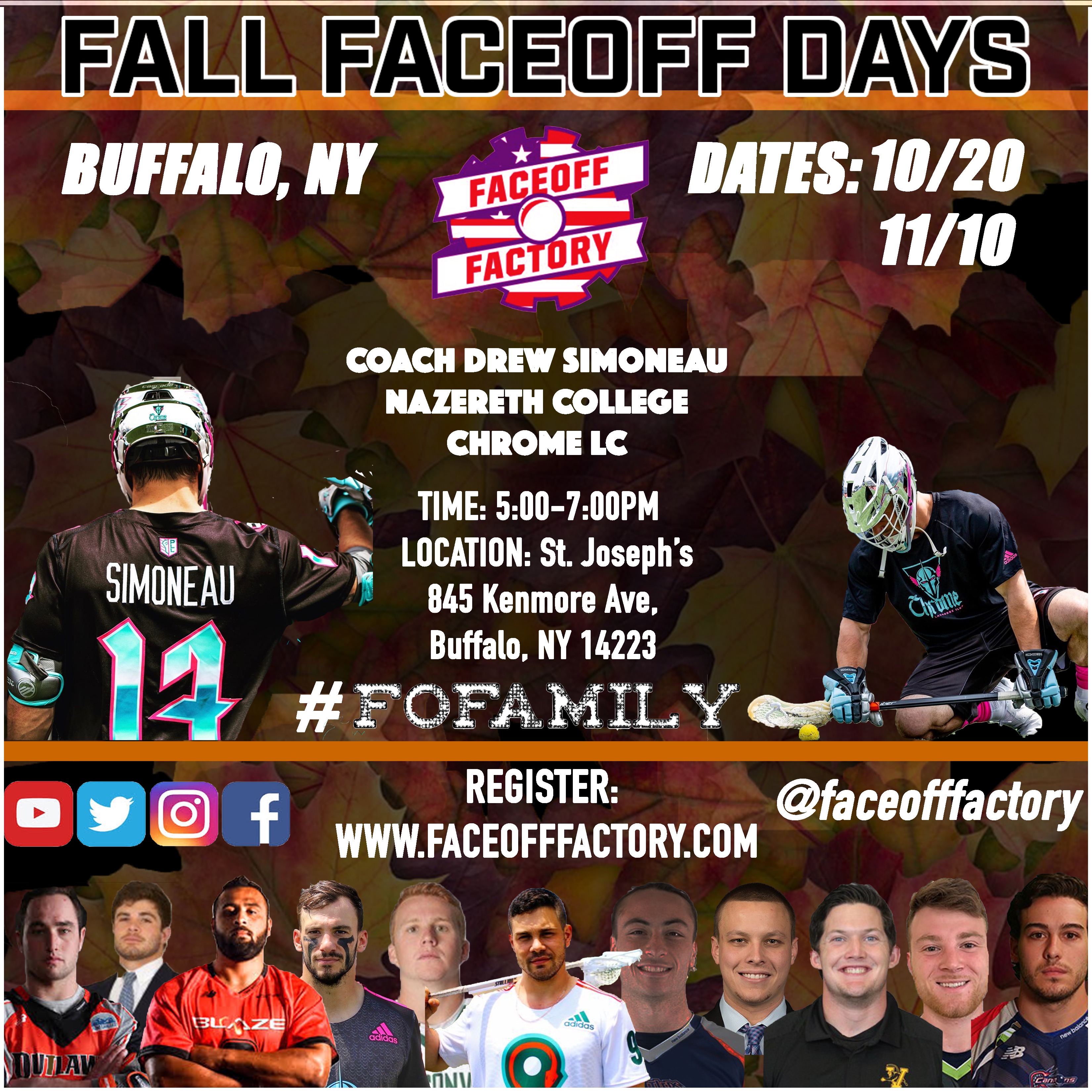 Dear Players, Parents and Coaches;

Faceoff Factory will be holding a biweekly group training sessions on Sunday's this fall in Buffalo, NY at St Joseph's Collegiate Institute . Training is open to ALL ages from beginner to advanced level. We will focus on maximizing technical efficiency, footwork, counters, and will spend a significant amount of time working on live repetitions and tie-up situations. The session will feature coaching from Coach Drew Simoneau.
Coach Simoneau is the current Faceoff Specialist for the PLL Chrome in the leagues inaugural season. Simoneau was a four-year lettermen with the Nazareth College Golden Flyers while also being named a 3X ALL-American. During Simoneau's 2016 professional Career for the Rochester Rattlers, he appeared in 13 games, scoring 3 goals, picking up 96 ground balls and was .548 on face-offs. In his 2017 with Dallas, Simoneau appeared in 13 games marking 4 goals, 2 assists, 117 ground balls, and was .579 at the X while being named an MLL ALL-Star. 2018 Simoneau was 55% at the X and 62% during the playoffs with an impressive total of 275/490.
Dates:
October 20
November 10 (make-up date)
All Buffalo sessions will be held from 5:00-7:00PM.
Address:
845 Kenmore Ave,
Buffalo, NY 14223

The cost of each session is $60 or $200 for all sessions. Please register online or bring a check made out to Faceoff Factory.
If you have any questions, please contact James Angelicola (Director of Operations) at (315) 256-6106 or at jamesangelicola@gmail.com.
Thanks and best regards,
FACE-OFF FACTORY
Email: info@face-offfactory.com
Website: www.face-offfactory.com
Like us on Facebook: https://www.facebook.com/TheFaceOffFactory
Follow us on Twitter and Instagram: @FaceoffFactory
Use the form below to filter by sport, season, day(s) and/or location; or scroll to view all programs.
---