Register
Maryland Bi-weekly Faceoff Training Lacrosse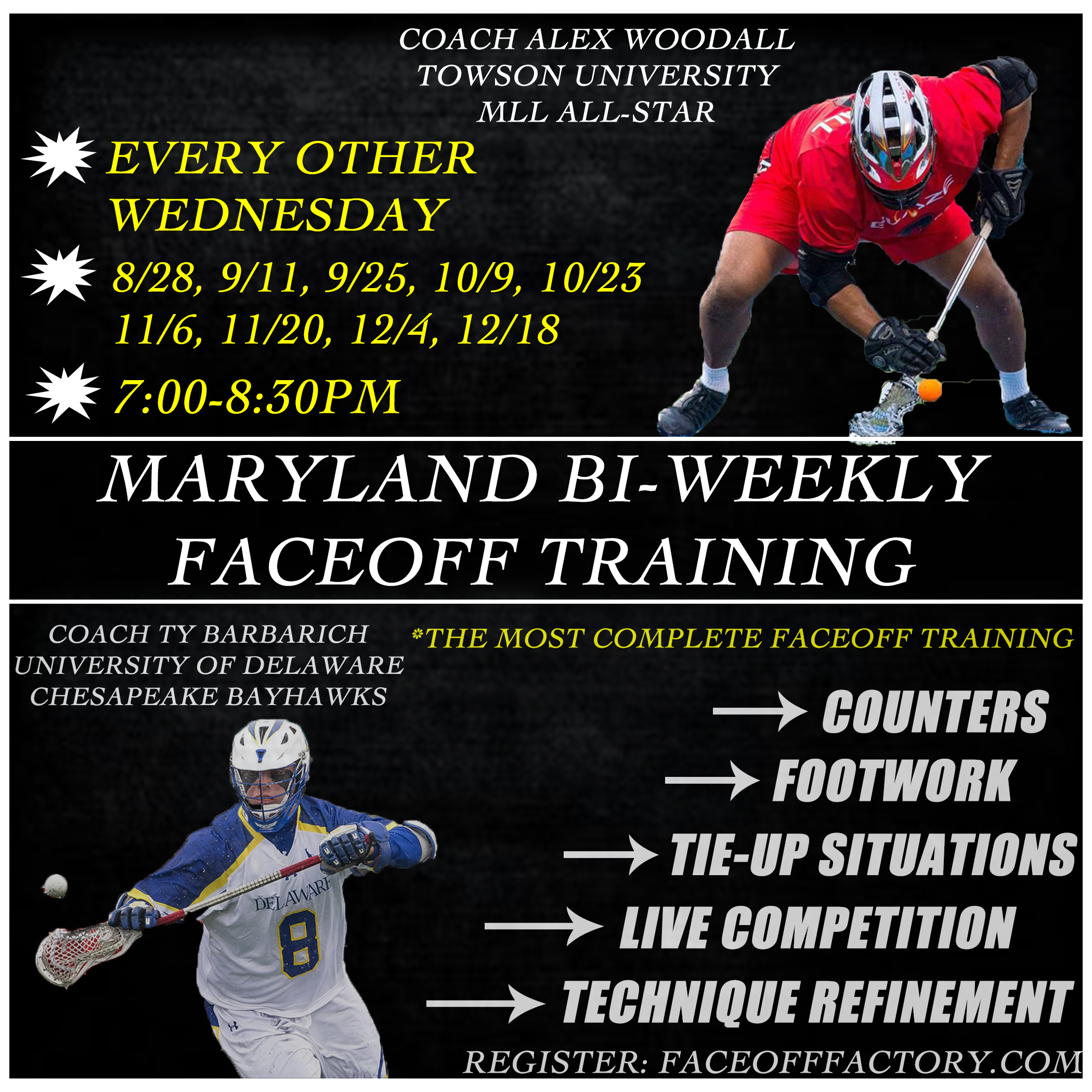 Dear Players, Parents and Coaches;

Face-Off Factory will be holding group training sessions every other Wednesday at The Turf Monster in Stevensville, MD. Training is open to ALL ages from beginner to advanced level. We will focus on maximizing technical efficiency, footwork, counters, and will spend a significant amount of time working on live repetitions and tie-up situations. Sessions will be held from 7-8:30PM.
Face-off training will be led by Coaches Tyler Barbarich and Alex Woodall. Coach Barbarich was a four year letterman at the University of Delaware. Before his time at Deleware he was named a USILA High School All-American. Coach Barbarich was a USA U-19 National Team Member, All- CAA Selection, Top 5 in FO% (2014), and a preseason All-American 2015. Coach Barbarich currently serves as the Faceoff Coach at the University of Maryland and is a member of the Chesapeake Bayhawks MLL team.

Coach Alex Woodall was a captain, second team USILA All-American and key contributor for Towson University. During his senior year Woodall won an astounding 74.2% of his faceoffs, finishing second nationally and in school history. He became the program's all-time faceoff leader and finished his collegiate career with 583 faceoff wins. Alex was also a First Team All-CAA selection. Woodall was the #1 overall pick in the 2019 MLL Draft (Ohio Machine) and was crowned an All-Star during his rookie season. Woodall was also the 4th overall pick in the PLL Draft (Whipsnakes LC). Woodall is the current faceoff specialist for the Atlanta Blaze:

https://blaze.majorleaguelacrosse.com/roster.aspx?rp_id=106
Address:
218 Log Canoe Cir,
Stevensville, MD 21666

The cost of each session is $65 or $300 for 5 sessions. Please register online or bring a check made out to Cash.

If you have any questions, please contact James Angelicola (Director of Operations) at 315-256-6106 or at faceofffactory@gmail.com.
Thanks and best regards,
FACE-OFF FACTORY
Email: info@face-offfactory.com
Website: www.face-offfactory.com
Like us on Facebook: https://www.facebook.com/TheFaceOffFactory
Follow us on Twitter and Instagram: @FaceoffFactory
Individual Fees

Regular

$300.00