Register
Defense Factory San Diego Lacrosse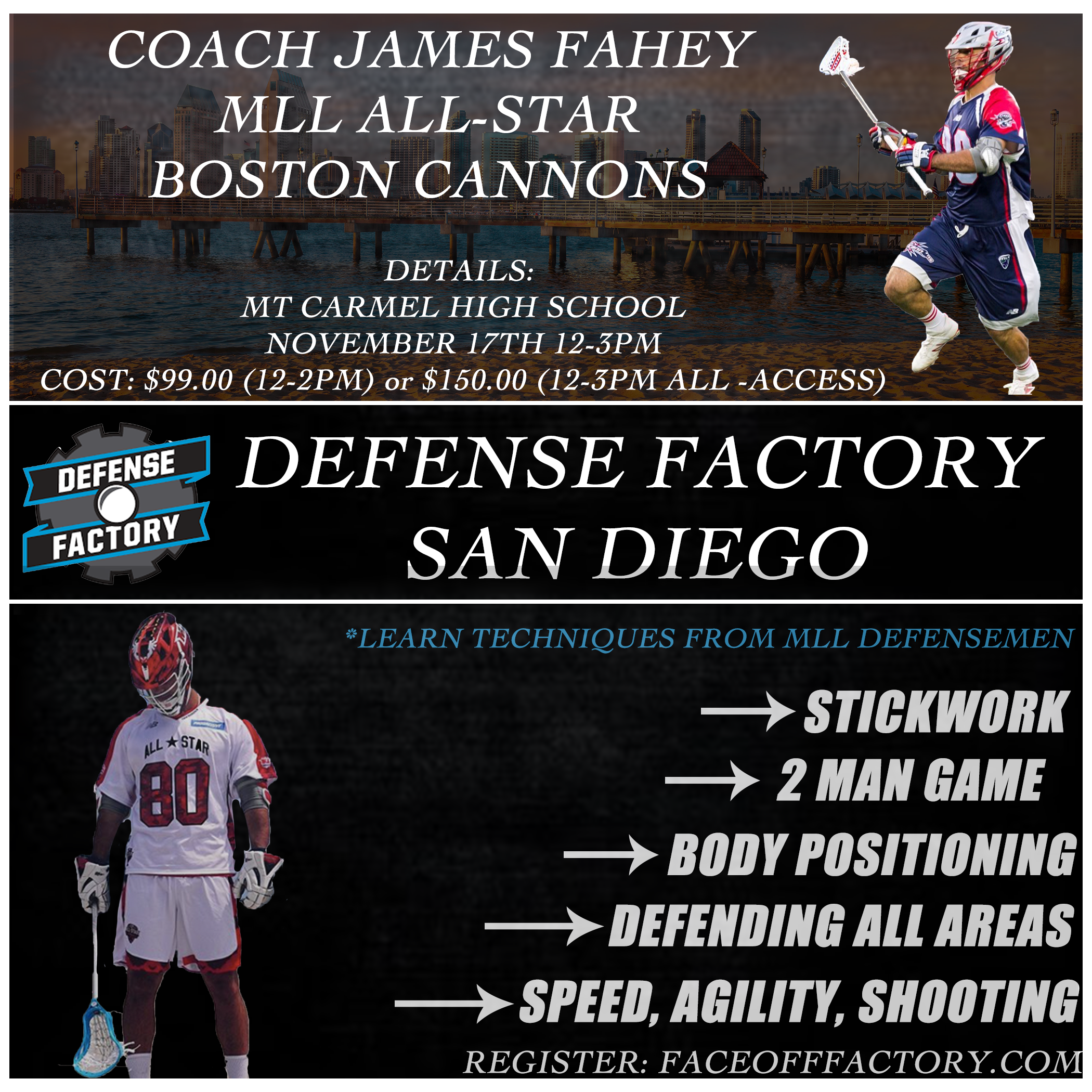 Dear Players, Parents & Coaches;
We are pleased to announce that we will be hosting a Defense Day in San Diego, California. The clinic will take place on Sunday, November 17th at Mt. Carmel High School from 12:00PM-2:00PM. All-Access will be held from 2:00-3:00PM.
Training is open to ALL ages from beginner to advanced level. We will focus on maximizing technical efficiency, GB's, transition, stick-work, disruption checks, footwork, approach angles, and will spend time focusing on tactical situations so that you can become a leader of your teams defense.

Defensive Training will be led by Coach James Fahey. Fahey was a four-year letterman with the UMass-Amherst Minutemen. While at the University of Massachusetts (Amherst), James played in the USILA North-South All-Star Game as well as the NEILA East-West Senior Game. He was ranked first in the CAA and 29th nationally in caused turnovers per game. Prior to his collegiate career, Fahey was a four-year letter winner on defense at St. Johns Preparatory school. Fahey led his team to a state title in 2010 while also making All-America Teams. During his professional career, Fahey has been a member of both the Atlanta Blaze and Boston Cannons. James is known for his ability to play a number of roles in games including defense, faceoff and also has a strong offensive ability. During this current season, Fahey resides with the Boston Cannons where he is a leader and key contributor. In addition, Fahey has also spent time as a coach and mentor for the Top Gun Fighting Clams.
All-Access includes: All-Access will take place 1 hour after the Development Day with Coach Fahey. All-Access will be limited to 6 players and provide a more in-depth focus on the defense position. All-Access will feature small competition-based drills, immediate film analysis, and live repetition with our staff.
Coaches (Free of charge) - Our clinics are always open to coaches, free of charge. We allow coaches to take notes, record video, and ask questions during/following the event. This is a great way for coaches to get right in on the action, learn from the staff, reinforce what their players learn, and further educate themselves.
Cost: $99.00 (12-2PM only) or $175.00 (2-3PM including All-Access).
*THIS CLINIC IS FOR ALL AGES.
Please direct any questions to James Angelicola (Director of Operations) at 315-256-6106 or jamesangelicola@gmail.com
Thanks and best regards,
DEFENSE FACTORY