Register
Charlotte Development Day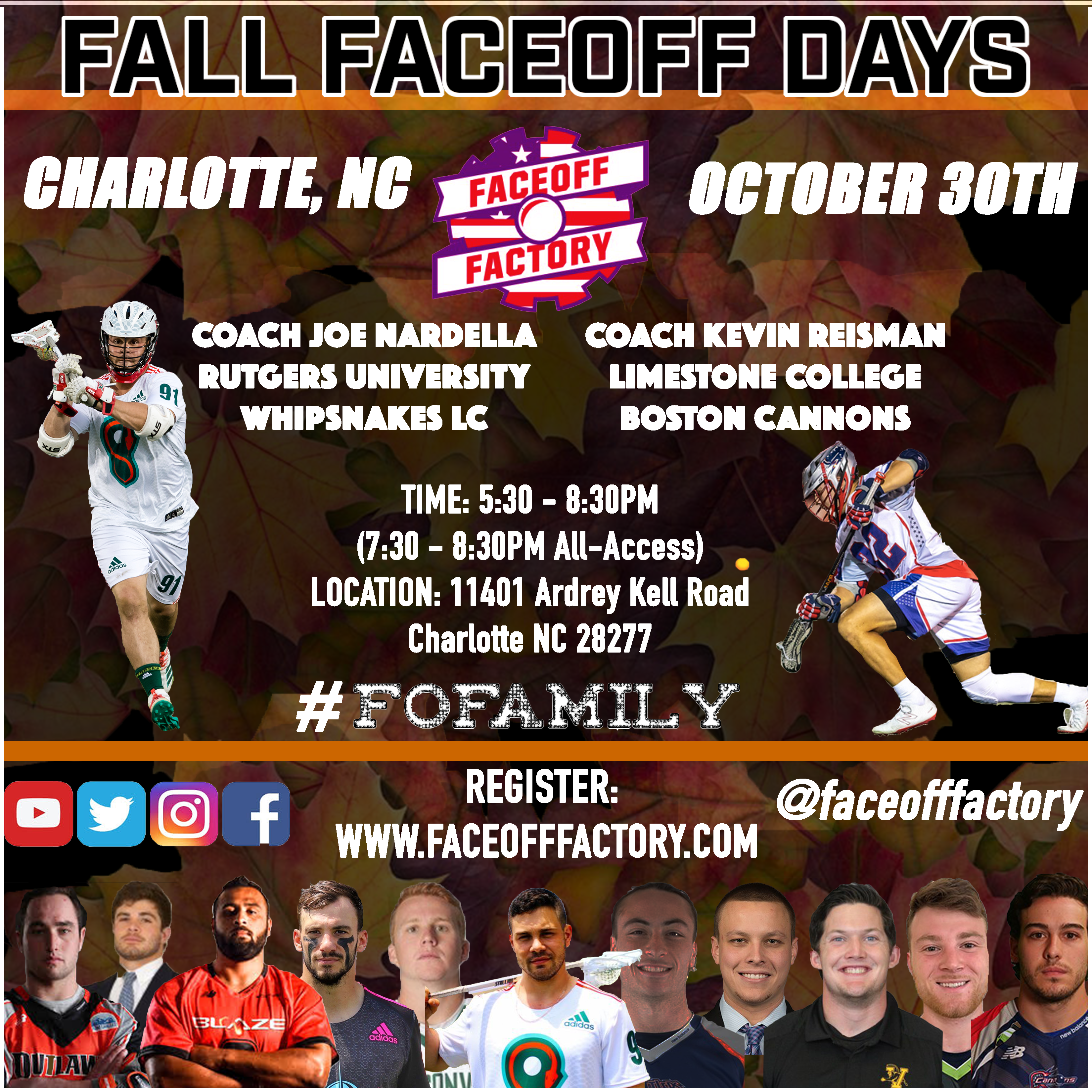 Dear Players, Parents & Coaches;
We are pleased to announce that we will be hosting a Face-Off Development Day in Charlotte, North Carolina. The clinic will take place at 11401 Ardrey Kell Rd on October 30th from 5:30-8:30PM.
Face-off training will be led by Coaches Joe Nardella and Kevin Reisman. Coach Nardella is the current Faceoff Specialist for the PLL Whipsnakes. Joe has made a name for himself in the Premier Lacrosse League ranking top 3 in FO percentage and ground balls. Coach Nardella was a standout at Rutgers University where he was named an All-American, an Academic All-American, Big Ten Specialist of the Year, 3x All Conference, and ranked top 5 in the nation in FO win % 3 years in a row. Coach Nardella is a 2X MLL All-Star and has solidified himself as a top 3 FO specialist in the world. Lastly, Joe notched 4 years of collegiate coaching experience serving as an Assistant at Harvard University.
FOF All-Access includes: All-Access will take place 1 hour after the Development Day with Coach Nardella and various other professionals/ former collegiate faceoff specialists. All-Access will be limited to 12 players and provide a more in-depth focus on the faceoff position. All-Access will feature small competition-based drills, immediate film analysis, and live repetition with our staff.

Coach Kevin Reisman was a captain, 4x All-American, 2x National Champion, and shattered almost every Division 2 Faceoff record. During his senior year Woodall won an astounding 74.2% of his faceoffs, finishing second nationally and in school history. He has been named the NCAA Championship most valuable player, National Player of the year twice, and led the nation in win percentage 3 of his 4 years. He currently is in year 4 of his professional career where he was named an All-Star for the Boston Cannons this season. He also has coached college lacrosse at Cornell University for 3 seasons.

Our FOF Development Day includes:

FOF warm-up that emphasizes the importance of hand speed/coordination and antagonistic stretching.

Following, training will consist of fundamental and technical reinforcement, advanced moves, counters, proper footwork, and body positioning. Drilling will be competition based and take place in small groups (sorted by age and ability).

The clinic will conclude with our signature Faceoff Factory tournament. We will be filming the players during their live competition reps. Players will be given access to the film once it is uploaded. Spots are very limited and will close quickly. Please register as soon as possible.
Why Faceoff Factory?
Here at Faceoff Factory, we take pride in our grassroots approach. We have had great success with the curriculum we have developed and tested over the course of 5 years. Our training has translated to proper faceoff technique and fundamentals that will ensure immediate and prolonged success at the faceoff position.
Additionally, students will be introduced to and challenged to master core fundamentals, advanced moves and techniques, counters, disruptions, anticipation tactics, proper footwork, appropriate body positioning, tie-up strategy, and situational IQ.
Coaches (Free of charge) - Our clinics are always open to coaches, free of charge. We allow coaches to take notes, record video, and ask questions during/following the event. This is a great way for coaches to get right in on the action, learn from the staff, reinforce what their players learn, and further educate themselves.
Cost: $99.00 per player or $175 for All-Access.
*THIS CLINIC IS FOR ALL AGES.
Please direct any questions to James Angelicola (Director of Operations) at 315-256-6106 or jamesangelicola@gmail.com
Thanks and best regards,
Faceoff Factory