Chicago Fall Faceoff Days Boys Lacrosse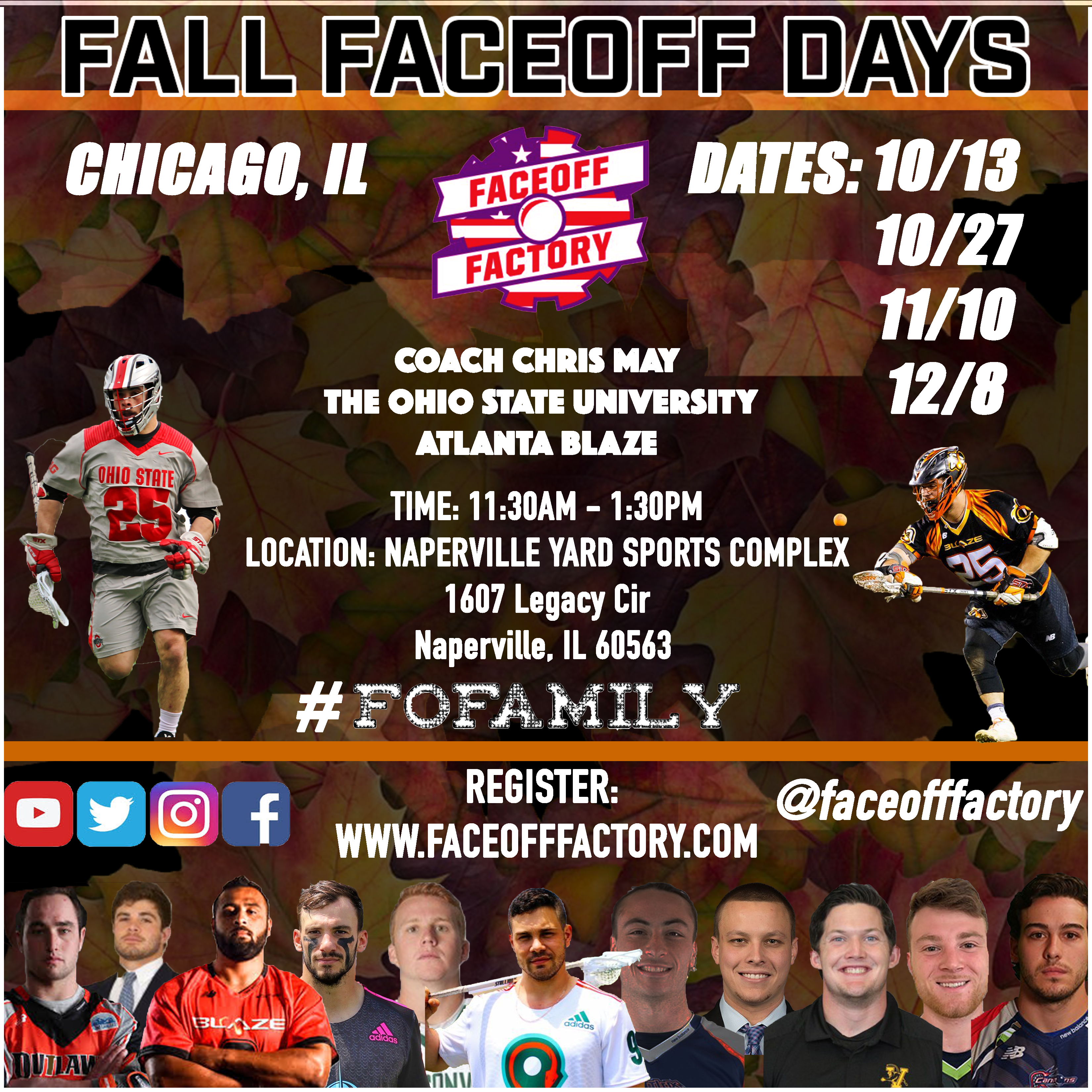 Dear Players, Parents and Coaches;

Faceoff Factory will be holding faceoff training sessions on Sunday's this Fall/Winter in Naperville, IL at The Naperville Yard Sports Complex. Training is open to ALL ages from beginner to advanced level. We will focus on maximizing technical efficiency, footwork, counters, and will spend a significant amount of time working on live repetitions and tie-up situations. The sessions will feature coaching from Coach Chris May.
Coach May was drafted in the 2016 MLL Supplemental Draft by the Denver Outlaws & faced-off for the Atlanta Blaze that season. Coach May attended Georgetown University from 2010 - 2014, and was a 4-year member of Men's Lacrosse team. Coach May also attended The Ohio State University 2014 - 2016 for graduate school, also a member of Men's Lacrosse team in 2015 that made it to the NCAA Quarterfinals. While playing at Ohio State: Honorable Mention All-Big Ten; 4x Big Ten Specialist of the Week; USILA Scholar All-American; USILA North-South All-Star Game participant; Ohio State Scholar Athlete; ranked top 11 in NCAA for face-off win percentage (2015); ranked top 7 in NCAA for ground balls per game (2015); 133 ground balls in 2015 are most by Ohio State player since at least 1999 (previous high in that span was 75). Coach Chris May is one of our most vocal coaches and current Faceoff Specialst for the Atlanta Blaze.

Dates:
October 27
November 10
December 8
All sessions will be held from 11:30AM-1:30PM.
Address:
1607 Legacy Cir
Naperville, IL 60563

The cost of each session is $70 or $250 for all sessions. Please register online or bring a check made out to Faceoff Factory.
If you have any questions, please contact James Angelicola (Director of Operations) at (315) 256-6106 or at jamesangelicola@gmail.com.
Thanks and best regards,
FACE-OFF FACTORY
Email: info@face-offfactory.com
Website: www.face-offfactory.com
Like us on Facebook: https://www.facebook.com/TheFaceOffFactory
Follow us on Twitter and Instagram: @FaceoffFactory
Use the form below to filter by sport, season, day(s) and/or location; or scroll to view all programs.
---