Register
Syracuse Weekly Faceoff Training Lacrosse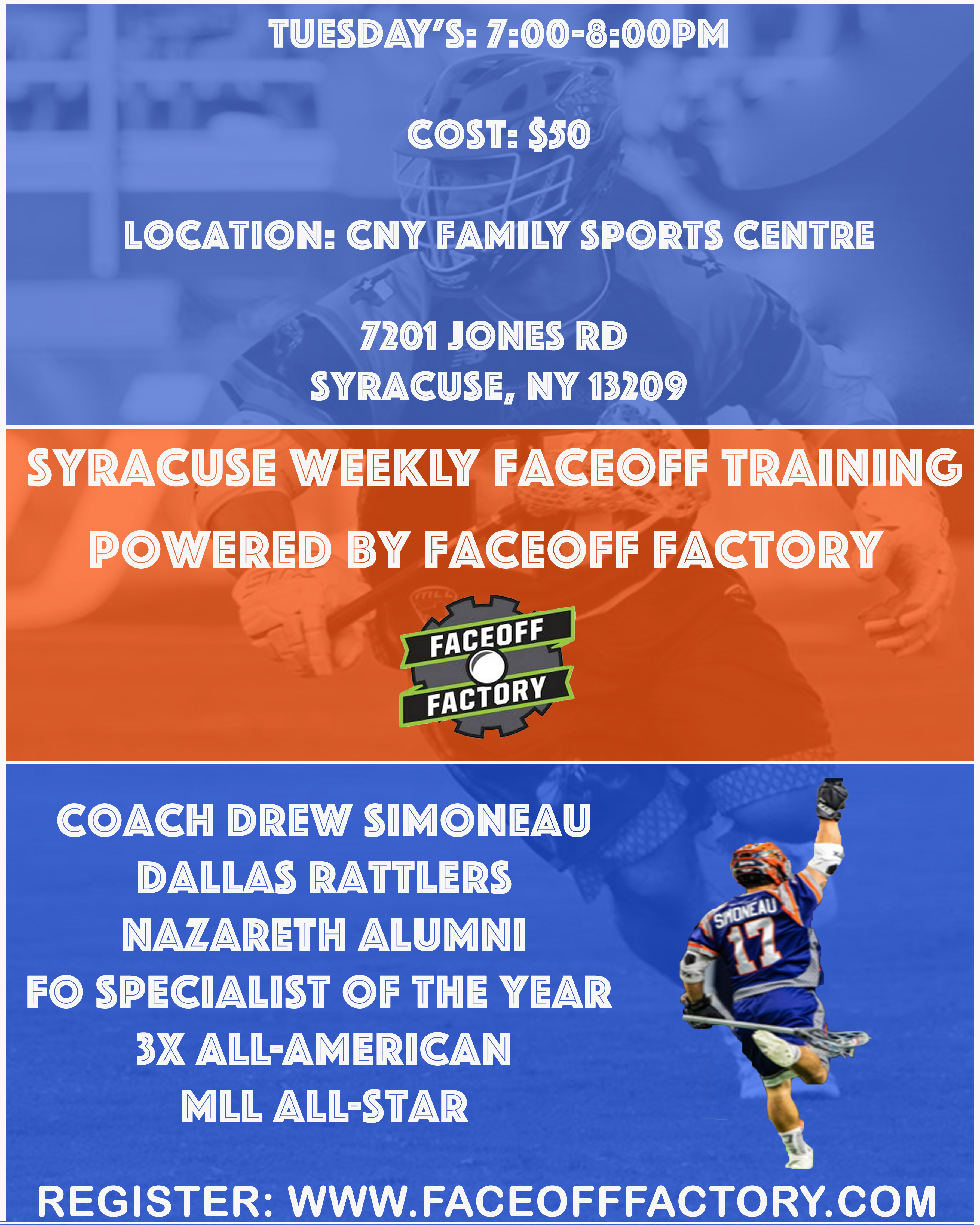 Dear Players, Parents and Coaches;
Face-Off Factory will be holding group training sessions on Tuesday's at CNY Family Sports Centre. Training is open to ALL ages from beginner to advanced level. We will focus on maximizing technical efficiency, footwork, counters, and will spend a significant amount of time working on live repetitions and tie-up situations. The session will feature coaching from Dallas Rattlers MLL Faceoff Specialist Coach Drew Simoneau.
Coach Simoneau is the current Faceoff specialist for the Dallas Rattlers MLL team. Coach Simoneau was selected from the player pool by the Rochester Rattlers in 2016 in which he appeared in 13 games, scoring 3 goals on the season while picking up 96 ground balls and was .548 on face-offs. In 2017, Simoneau appeared in 13 games marking 4 goals, 2 assists, 117 ground balls, and was .579 at the X. Coach Simoneau was also selected for 2017 MLL All-Star game. This past season, Coach Simoneau was a key contributor for the Dallas Rattlers success marking a stunning 55% during the regular season at the X and 62% during the playoffs with a total of 275/490. A Graduate of Nazareth College in Rochester, NY was a 3x All-American and 2015 faceoff specialist of the year.
Dates include:
Address:
7201 Jones Rd,
Syracuse, NY 13209
The cost of each session is $50. Please register online or bring cash/check made out to Cash.
If you have any questions, please contact James Angelicola (Director of Operations) at 315-256-6106.
Thanks and best regards,
FACE-OFF FACTORY
Email: info@face-offfactory.com
Website: www.face-offfactory.com
Like us on Facebook: https://www.facebook.com/TheFaceOffFactory
Follow us on Twitter and Instagram: @FaceoffFactory