Register
Rhode Island Weekly FO Training Lacrosse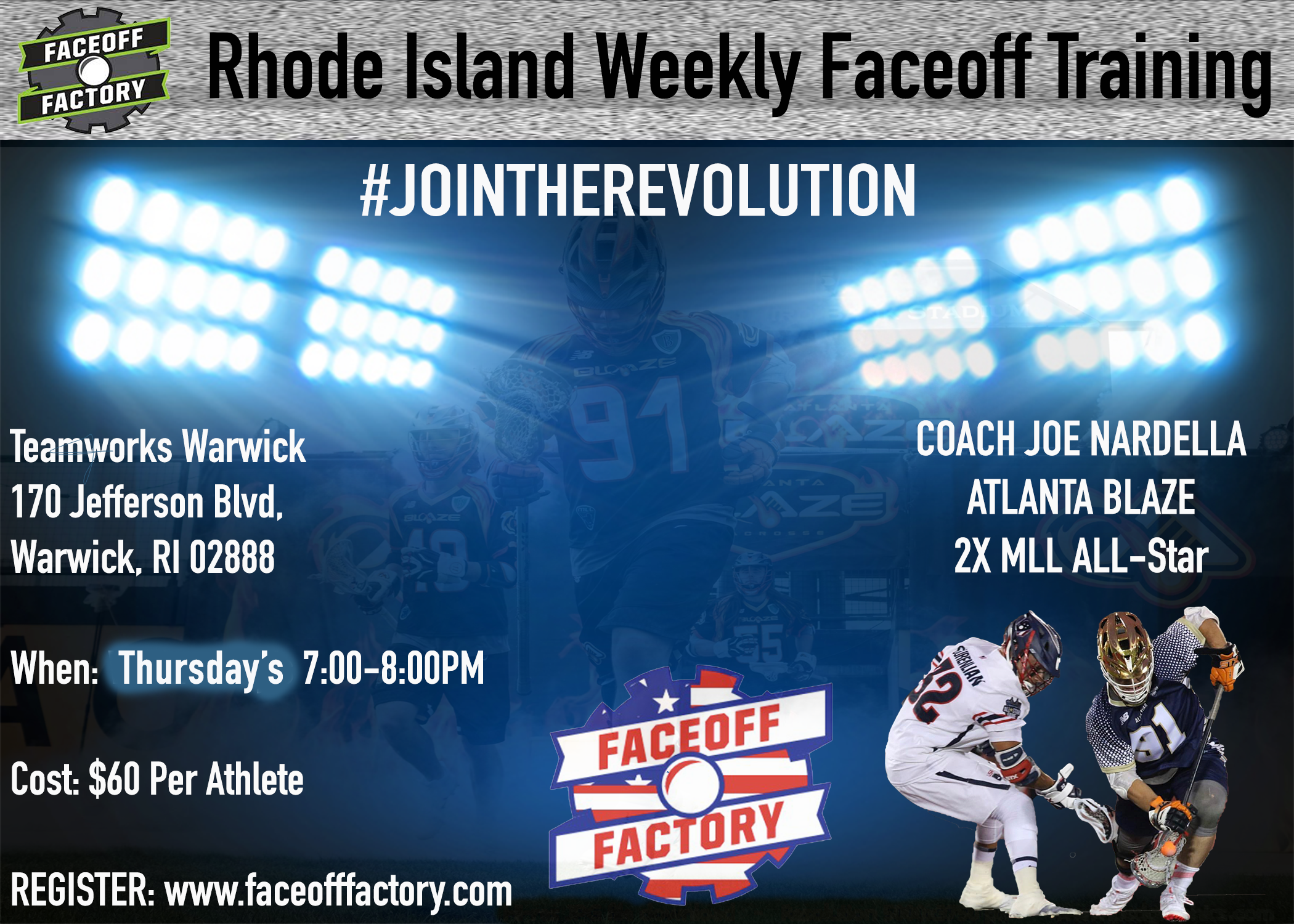 Dear Players, Parents and Coaches;
Face-Off Factory will be holding a group training session on Thursday's at Teamworks in Warwick, RI. Training is open to ALL ages from beginner to advanced level. We will focus on maximizing technical efficiency, footwork, counters, and will spend a significant amount of time working on live repetitions and tie-up situations. Sessions will be held from 7-8PM.
Face-off training will be led by Coach Joe Nardella of the Atlanta Blaze. Coach Nardella was a standout at Rutgers University where he was named an All-American, an Academic All-American, Big Ten Specialist of the Year, 3x All Conference, and ranked top 5 in the nation in FO win % 3 years in a row. Coach Nardella recently concluded his 4th MLL season in which he was named an All-Star for the second time. In his Professional career Coach Nardella has logged a FO win % of 56.08, tallied 1177 faceoffs taken (top 20 all time), and has won 655 of them (top 20 all time).

Next Sessions Include:
11/15
11/22
11/2
Address:
170 Jefferson Blvd,
Warwick, RI 02888

The cost of each session is $60. Please register online or bring a check made out to Cash.

If you have any questions, please contact Joe Nardella at 315-727-6914 or at faceofffactory@gmail.com.
Thanks and best regards,
FACE-OFF FACTORY
Email: info@face-offfactory.com
Website: www.face-offfactory.com
Like us on Facebook: https://www.facebook.com/TheFaceOffFactory
Follow us on Twitter and Instagram: @FaceoffFactory