Register
Connecticut Weekly Faceoff Training Lacrosse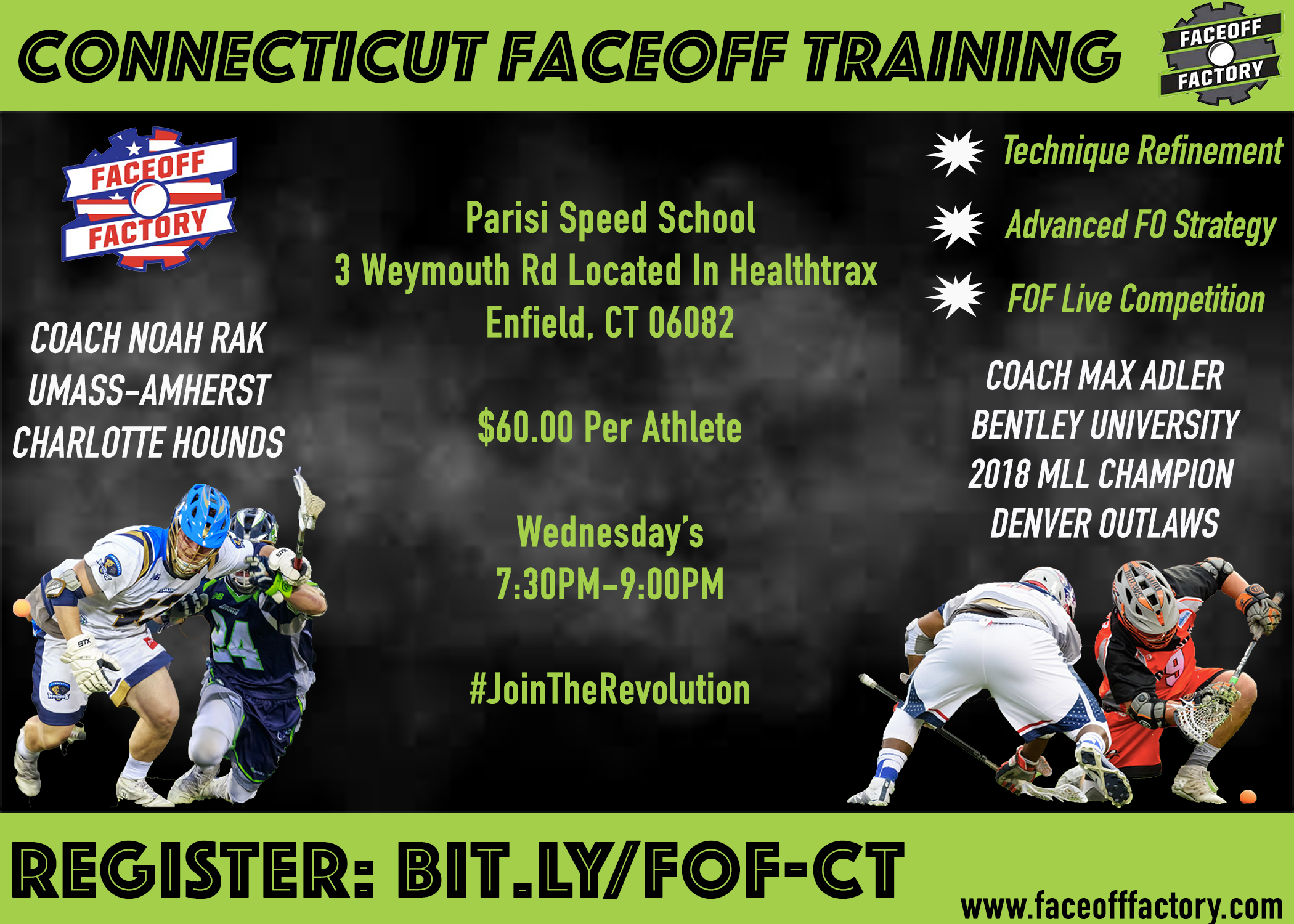 Dear Players, Parents and Coaches;
Face-Off Factory will be holding a group training sessions on Wednesday's in Enfield, CT at Parisi Speed School. Training is open to ALL ages from beginner to advanced level. We will focus on maximizing technical efficiency, footwork, counters, and will spend a significant amount of time working on live repetitions and tie-up situations. The session will feature coaching from Denver Outlaws Faceoff Specialist Max Adler and Charlotte Hounds Faceoff Specialist Noah Rak.
Coach Max Adler was selected by Denver in the seventh round (61st overall) of the 2017 MLL Collegiate Draft. Coach Adler made his pro debut on July 15, 2017 in a win over Ohio. During the 2018 season, Coach Adler has been an absolute force at the Faceoff X finishing top 3 in Faceoff percentage. Coach Adler was a key factor in the Denver Outlaws success helping them win the 2018 MLL championship against the Dallas Rattlers. In the semi-final game alone Coach Adler finished 21-29 at the Faceoff X. Coach Adler graduated from Bentley University.
Coach Noah Rak was the Hounds' 30th overall pick in the 2018 MLL Collegiate Draft. A product of UMass-Amherst, Coach Rak ranked second in the CAA and 15th in the nation with a 59.3 face off win percentage. His 506 career wins and 278 ground balls are a UMass record. He was also named NEILA All-Region First Team and All-CAA First Team. In his first professional season, Coach Rak took a total of 170 faceoffs while starting several games and accumulating 31 career ground balls.
Sessions will be held from 7:30pm-9:00pm
Address:
Parisi Speed School
3 Weymouth Rd Located In Healthtrax
Enfield, CT 06082

The cost of each session is $60. Please register online or bring a check made out to Cash.
If you have any questions, please contact Coach Max Adler at (954) 850-7265.
Thanks and best regards,
FACE-OFF FACTORY
Email: info@face-offfactory.com
Website: www.face-offfactory.com
Like us on Facebook: https://www.facebook.com/TheFaceOffFactory
Follow us on Twitter and Instagram: @FaceoffFactory