Register
FOF Women's Draw Days Lacrosse
MonTueWedThuFriSatSun 8:00pm to 9:00pm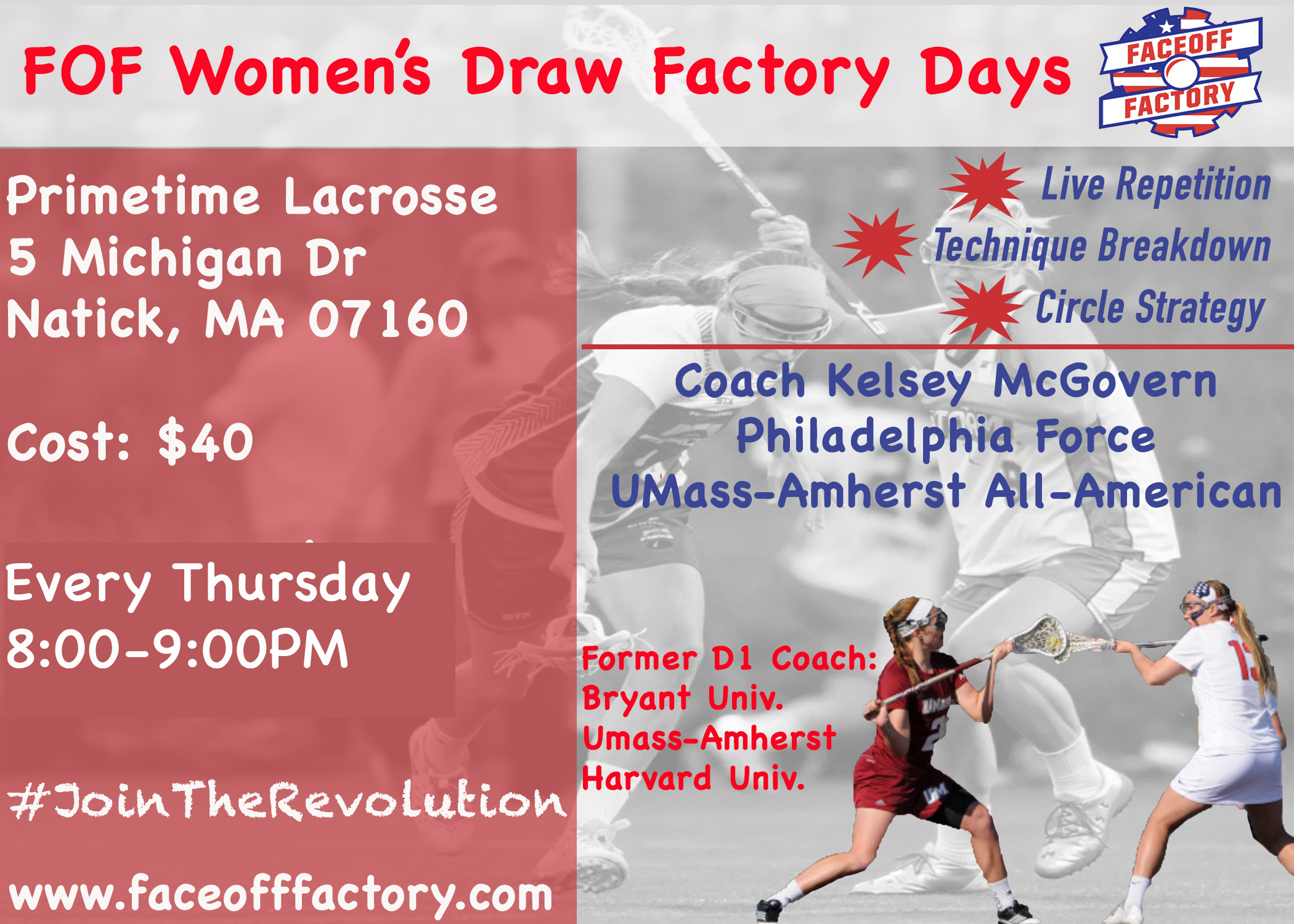 Faceoff Factory is proud to announce that we will be holding women's Draw Day sessions this fall at Primetime Lacrosse. Training is open to ALL ages from beginner to advanced level. We will focus on maximizing technical efficiency, footwork, circle strategy, and will spend a significant amount of time working on live repetition. Sessions will be held from 8:00-9:00PM.
Face-off training will be led by Coach Kelsey McGovern. During her collegiate career Coach McGovern was an All-American & Captain during her time at Umass-Amherst. She was named inside lacrosse top 10 game changer list due to her draw capability. Coach McGovern set and broke total career DC's (201) and season high DC's (110). Captured most season DC in Umass history on torn ACL in second round NCAA game in 2013. She was also named NCAA's Top 5 Draw specialists.
During her Coaching career McGovern spent time at Umass-Amherst, Bryant University, and Harvard University. Coach McGovern propelled Bryant into top 20 category nationally for draw control wins. She coached All American and draw specialist Hannah Murphy in 2017 season who ended up breaking her own current draw control records. Hannah Murphy led the nation in draw control wins at 212, set an A10 conference record, and is 3rd in the NCAA history books at 522.
Coach McGovern currently plays professionally for UWLX Philadelphia force who were just named the 2018 season Champions.
*PLEASE WEAR SNEAKERS

Address:
5 Michigan Dr,
Natick MA 01760
The cost of each session is $40. Please register online or bring a check made out to Cash.

If you have any questions, please contact Coach Kelsey McGovern at (978) 490-4528.
Thanks and best regards,
FACE-OFF FACTORY
Email: info@face-offfactory.com
Website: www.face-offfactory.com
Like us on Facebook: https://www.facebook.com/TheFaceOffFactory
Follow us on Twitter and Instagram: @FaceoffFactory